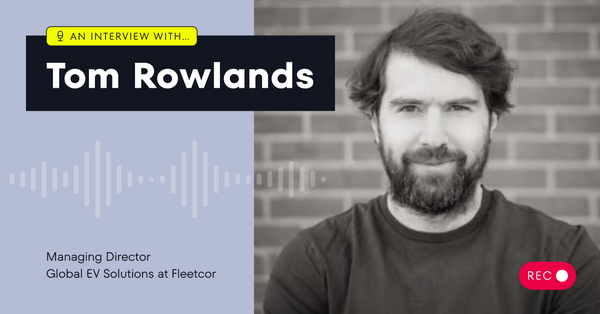 A win-win for the industry
Tom Rowlands became the first-ever MD of Global EV Solutions at FleetCor. Before stepping into the new role, he oversaw FleetCor's European strategy. When working as a strategy VP, Tom recognized the power of growing the business through acquisitions. Buying startups is a great way to gain a foothold in new markets, but for Tom and FleetCor, it's also about expertise:
"We recognize the value in these companies, the knowledge of the people, and the innovative solutions they have brought to market. We try to respect that and not stifle what made them great in the first place."
According to Tom, these deals are mutually beneficial. With the backing of a bigger partner, startups get the financial and strategic resources to scale their offering. At the same time, FleetCor can offer more value to its existing customers. All this results in better products that simplify driving, charging, and payments. In turn, they make it easier for people to ditch their gasoline and diesel-powered cars in favour of EVs (Electric Vehicles).
Better products
By acquiring Plugsurfing, FleetCor now has a world-class customer-facing charging app and access to the largest roaming network in Europe. In addition, the innovative Plugsurfing Power Platform also enables adding more CPOs (Charging Point Operators) to the network and expanding the reach even further.
Buying Plugsurfing is in line with the big picture. FleetCor recently bought Mina, an emobility startup based in the UK. Mina focuses on an EV-friendly solution to a problem already resolved by companies like FleetCor in the ICE (Internal Combustion Engines) age.
It's straightforward to fill the tank of a traditional car and pay at the pump with a company fuel card. But if you have a company EV that you plug in at home, figuring out who picks up the electric bill can be challenging. This is where Mina's Homecharge® comes in. It lets the employer pay the energy supplier for the driver's EV home charging. Instead of messy reporting and reimbursements at the end of the month, this saves everyone a ton of work.
Through Mina and Plugsurfing, FleetCor can offer tangible value to people already using its products. Tom is happy with this direction:
"We have a solid set of on-road products. And now, with the acquisition of Mina, a market-leading home charging software solution, too."
Shaping trends
FleetCor was founded in 2000 and focused initially on managing fuel cards for businesses. This means our new parent company has decades of experience in processing payments. Although the industry has already seen a lot of progress from the early days, Tom acknowledges there's a lot of room to improve. This is especially true in the data and payments side of emobility:
"CPOs need to become more standardized in how they operate. Better, more consistent data and transparent pricing help EMSPs (Emobility Service Providers) to simplify the end-user experience. But that is more than just the job of the CPOs. We need to play our part by guiding and helping our partners shape what this should look like. The second evolution will be a bigger shift to digital. Physical cards should start to fall away over the next 5 years as we see greater adoption of apps and technologies such as Plug & Charge."
While Plugsurfing is focused on the European market, FleetCor has its roots in North America. With a strong car lobby, less environmental regulation, and relatively plentiful oil deposits, the US has yet to have the same incentives to build its EV infrastructure. However, Tom says the gap is narrowing, albeit slowly:
"I do believe the US will start to catch up with Europe. But the US market will evolve differently from Europe, given the geography and demographics. For example, there will be more home charging. Many US drivers regularly need to travel longer distances, so there may be a delay in EV adoption until battery ranges improve."
How does Plugsurfing fit into this?
Getting bought by FleetCor gives Plugsurfing more resources, both financially and strategically. Tom sees this as an opportunity for us to do what we do best:
"The team we have taken on is passionate and knowledgeable about remaining the dominant force in emobility in Europe and becoming a global player. Their help in guiding us through the new ecosystem is invaluable. Plugsurfing will continue to innovate for customers and end users. This means making charging as simple as possible for consumers or fleet drivers."