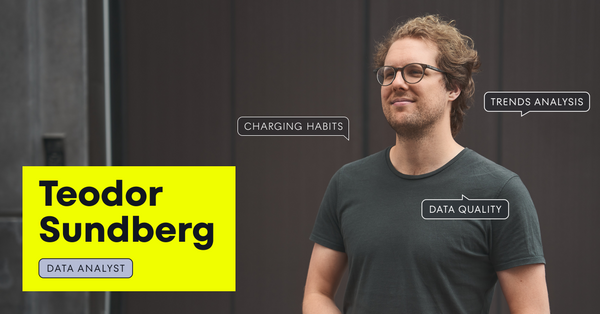 Teo, can you tell me a little bit about your background and how you got into data analysis?
My background is in computer science and economics. I wasn't particularly interested in fixing financial issues, but I enjoyed learning about data to understand trends, dynamics, and challenges.
At the beginning of my career, I worked on analyzing small data, which then transitioned into big data, which helped me develop my knowledge and go deeper into the data world. In addition, my broad experience in programming enabled me to combine it with macro trends, which I found extremely interesting.
Later, I became a business consultant, where I started to employ my data skills more and more over time. This role brought me to Plugsurfing.
You mentioned you're interested in macro trends. Could you share some examples from the electric vehicle charging space and what data can be utilized?
We are looking into multiple macro trends, such as the availability of chargers, the number of charging connectors, existing charging networks, and consumer-driving trends. For example, whether the drivers charge on the go, in the city, or at home, the predictions and opportunities for new products and services become much more rich.
More and more charge point operators choose Plugsurfing. As a result, there is great potential for understanding how charge maps work and how other individuals move within the map. Our team focuses on cleaning data, as there are many players, and the nature of data to collect varies.
How do you see Plugsurfing's position with data at the heart of the EV ecosystem?
Plugsurfing is well-positioned to gather data because we have both the charge points managed directly by our software and a large roaming network.
We have an excellent opportunity to work with the data, and we have been working to build up a proper data infrastructure. As a company, we strive to utilize our data in all possible ways.
We might not have access to all the data that flows through our network. Still, we have contact with the cleaner data, which is more valuable and robust and will be very helpful in understanding how others, such as our existing and potential customers, move within the network.
How can we use data to help our charge point operator partners and carmakers?
We are working to give charge point operators access to data and will continue doing much more. Our team can also offer insights, although we focus on sharing raw data so that our customers and partners can analyze it within their network.
We can support carmakers by providing route planning and raw analysis while understanding their customers and what each player can offer them.
Customers of our charge point management system have expressed interest in expanding to specific locations, but the grid is not ready. How can we support our partners in advocating for improvements to grid capacity?
The power grid is an area of interest to our charge point operator partners. When we can validate the data with information from peak load on the grid, we can take our data to advise on whether a charge point operating at total capacity can affect the grid's safety. We can also show that it's safe to install more chargers in locations nearby because of how frequently people charge in the area.
How else can we use data to support the EV ecosystem?
One of our teams is investigating the possibility of implementing smart charging from our end through the Plugsurfing app. I think there could be room for collaboration with our partners. With smart charging, we can help our charge point operator partners safely expand in areas without requiring modifications to the grid.
We could look at driver behavior on a high level to determine where drivers prefer charging to help customers and partners steer the deployment of their resources.
We can help nudge drivers to charge more optimally when energy is cheaper, and there is less strain on the grid. But we need laws and regulations to catch up to enable these sorts of nudges, namely consumer pricing.
What can we at Plugsurfing do to help the industry, especially drivers?
I believe there's a lot more information we can provide drivers on our roaming network. For example, when data is more standardized after the Alternative Fuels and Infrastructure Regulation, we can give more information about uptime and other metrics to help them make more informed decisions when looking for a charger.
Plugsurfing can provide many other technical features, such as speed reliability and average charge speed, depending on specific car models. For that to happen, we need drivers to input their car models on our app.
Data can help our partners run their businesses smoothly and share insights with drivers and planners.