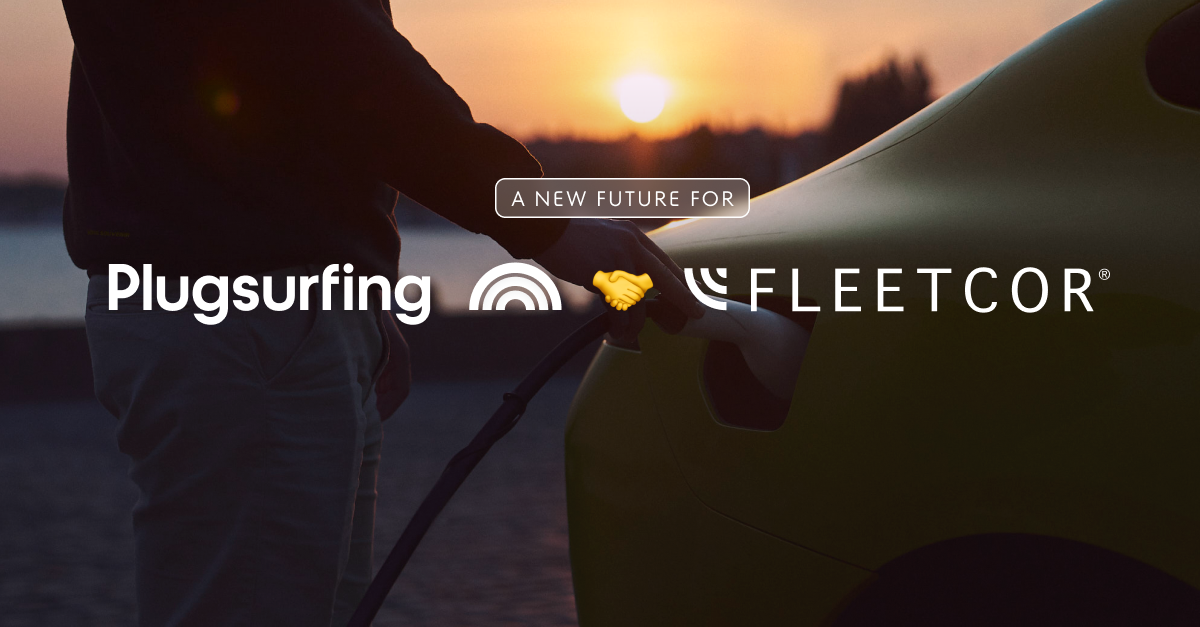 Plugsurfing enters a new chapter with its acquisition by FLEETCOR ® Technologies from Fortum, the company's owner since 2018. Under FLEETCOR, Plugsurfing will be able to accelerate its growth in the EV ecosystem, deliver further investment in its products and services, build on existing partnerships and customer relationships as well as expand into new segments.
For FLEETCOR Technologies, a global leader in business payments, the acquisition of Plugsurfing will expand its EV capabilities in Europe and enhance its product offering to existing and new customers. As electric vehicle (EV) adoption continues to grow, Plugsurfing offers FLEETCOR and its partners an opportunity to spearhead the transition from internal combustion engine vehicles to EVs.
"We're thrilled to boost our electric future through FLEETCOR's investment," says Tatu Kulla, CEO of Plugsurfing. "Fortum's investment brought Plugsurfing the 'Power Platform', Europe's most robust platform for EV charging. FLEETCOR is a perfect next step for the company as it will bring more focus to our product roadmap, delivers complementary capabilities to customers and partners, and gives us an opportunity to expand more rapidly and broadly across market segments and geographies."
Plugsurfing fosters sustainable mobility and a seamless driver experience by aligning the entire car charging ecosystem—drivers, charge point operators, and carmakers. Its service connects over one million registered EV drivers to a network of over 300,000 charge points, enabling over 800,000 charging sessions each month. Plugsurfing's products and services are centered around its alliance of strategic partners. This ecosystem creates the seamless experience EV drivers crave and sets Plugsurfing apart from the competition. The software brings together all the stakeholders of the EV ecosystem through one platform, reducing friction for all parties involved.
"The acquisition of Plugsurfing demonstrates FLEETCOR's commitment to developing world-class EV solutions for our thousands of commercial fleet customers, while tapping into new customer segments through unique capabilities that Plugsurfing has today", said Tom Rowlands, global managing director of EV at FLEETCOR. "Tatu and team have built a compelling suite of products and services, and we look forward to working closely with this talented team to further grow these EV capabilities". Plugsurfing was founded in 2012 in Berlin. The company has offices in Berlin, Stockholm, and Helsinki, employing around 90 people.
About Plugsurfing
Plugsurfing aligns the entire car charging ecosystem—drivers, charging point operators, and carmakers—within a single platform. The over one million drivers connected to our platform benefit from a network of over 390,000 charge points across Europe and a reliable experience through our app or solutions designed for our partners. We serve charging point operators with a back-end cloud software for managing everything from country-specific regulations to providing diverse payment options for customers. Carmakers benefit from white label solutions as well as deeper integrations with their in-house technology. For more information, please visit www.plugsurfing.com.
About FLEETCOR
FLEETCOR Technologies (NYSE: FLT) is a leading global business payments company that helps businesses spend less by providing innovative solutions that enable and control expense-related purchasing and payment processes. The FLEETCOR portfolio of brands automate, secure, digitize and manage payment transactions on behalf of businesses across more than 100 countries in North America, Latin America, Europe, and Asia Pacific. For more information, please visit www.FLEETCOR.com.
For press inquires, please contact Maxwell Philp, Communications Manager: maxwell.philp@plugsurfing.com
You can find our logo, photos, and other media assets in our Media Resources.