The agreement with close partners Polestar and Volvo Cars will bring Polestar 2 and pure electric Volvo cars drivers heavily reduced prices at IONITY's public fast chargers across Europe. From July 1st, 2021, drivers can access the reduced rate of 0,35 EUR per kWh.
By simply utilizing the Plugsurfing card at IONITY public fast chargers across Europe, drivers can access the preferential rate without any additional hassle of subscriptions, extra apps, keys or authentication methods.
"The bottom line is that customers want easy access to public charging infrastructure," says Tatu Kulla, Plugsurfing CEO.

"Price and quality of digital infrastructure are key aspects of an excellent user experience. We value the strategic partners who share this vision and seek collaborative solutions."
This strengthened offer is in addition to the existing agreement that provides Polestar and Volvo Cars drivers access to 200,000+ charging points in the Plugsurfing network, including 20,000+ fast chargers from other operators. This network brings the physical infrastructure of 600+ charge point operators to the fingertips of users, who can tap to filter and find the chargers they need.
"Volvo Cars aims to change the current fragmented public charging landscape into an all-in experience that is convenient and hassle-free," said Olivier Loedel, Head of Electrification ecosystem at Volvo Cars.
Collaborations of this sort underscore that strong benefits for drivers are a result of continued partnership in the realm of electric mobility. Collective effort can achieve accessibility, affordability and transparency for drivers with varying charging needs.
"Not being limited to our own exclusive charging network means we can benefit from the expansion and evolution of infrastructure as the industry grows and as the shift to electric mobility gathers momentum. We remain committed to finding more solutions like this for our customers," says Thomas Ingenlath, Polestar CEO.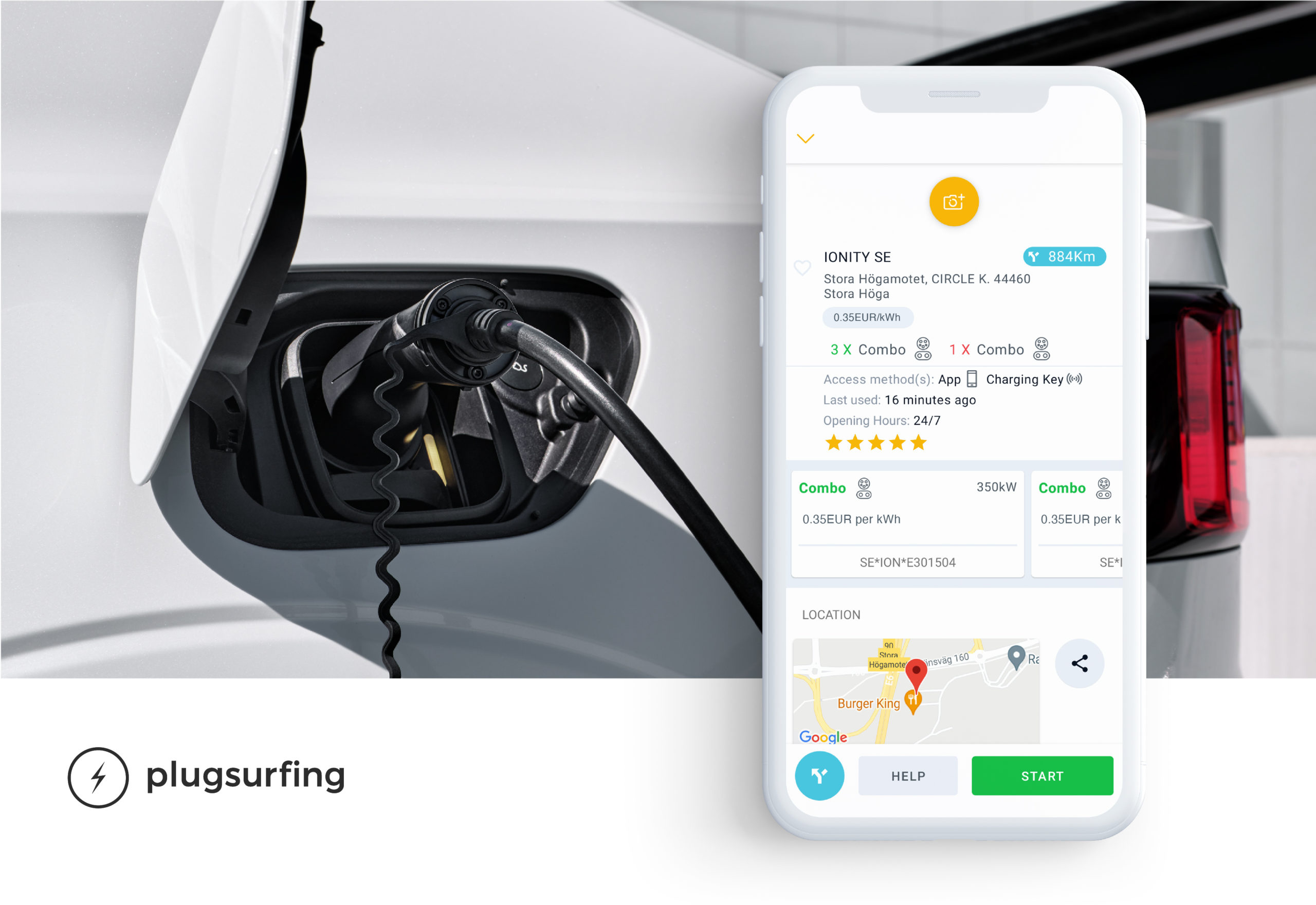 Notes to editors
The reduced IONITY rate agreement applies to all existing Polestar 2 owners who use the supplied Plugsurfing charging card delivered with their Polestar 2. The offer will also apply to all new Polestar 2 owners who order their cars by 31 December 2021.
Effective for new customers of pure electric Volvo cars as of July 1, 2021, and will apply for the first 12 months of ownership. For existing customers of pure electric Volvo cars, the new prices will apply for 12 months, starting from July 1, 2021.
The Plugsurfing app needs to be updated to reflect the reduced pricing and must be linked to the same account as the Plugsurfing card supplied with the vehicle.
Scanning QR codes on charging stations will not validate the reduced pricing.
About Plugsurfing
Plugsurfing is pioneering a new wave of sustainable mobility by making car charging easy. Plugsurfing brings energy to EV drivers with a platform that serves more than 650 000 drivers and connects EV drivers to more than 200 000 charging points across Europe. We serve leading charging point operators, car makers and fleets with our digital services platform that has already processed more than 17 million charging sessions. Plugsurfing was founded in 2012 in Berlin and was acquired fully by Fortum Oyj in 2018.
About Polestar
Polestar is the independent Swedish premium electric performance car brand founded by Volvo Cars and Geely Holding. Established in 2017, Polestar enjoys specific technological and engineering synergies with Volvo Cars and benefits from significant economies of scale as a result. The company is headquartered in Gothenburg, Sweden, and its vehicles are available and on the road in ten global markets across Europe and North America, and in China. In 2021, Polestar is expanding into eight new markets across Europe and Asia Pacific.
Polestar produces two electric performance cars. The Polestar 1 is a low-volume electric performance hybrid GT with a carbon fibre body, 609 hp, 1,000 Nm and an electric-only range of 124 km (WLTP) – the longest of any hybrid car in the world. The Polestar 2 electric performance fastback is the company's first fully electric, high volume car. The Polestar 2model range includes three variants with a combination of long- and standard range batteries as large as 78 kWh, and dual- and single motor powertrains with as much as 300 kW / 408 hp and 660 Nm.
In the future, the Polestar 3 electric performance SUV will join the portfolio, as well as the Precept – a design study vehicle released in 2020 that is slated for future production. Precept showcases the brand's future vision in terms of sustainability, digital technology and design.
About Volvo Car Group
Volvo Cars was founded in 1927. Today, it is one of the most well-known and respected car brands in the world with sales of 661,713 cars in 2020 in about 100 countries. Volvo Cars has been under the ownership of the Zhejiang Geely Holding since 2010.
As of December 2020, Volvo Cars employed approximately 40,000 (41,500) full-time employees. Volvo Cars head office, product development, marketing and administration functions are mainly located in Gothenburg, Sweden. Volvo Cars head office for APAC is located in Shanghai. The company's main car production plants are located in Gothenburg (Sweden), Ghent (Belgium), South Carolina (US), Chengdu and Daqing (China), while engines are manufactured in Skövde (Sweden) and Zhangjiakou (China) and body components in Olofström (Sweden).
Under its new company purpose, Volvo Cars aims to provide customers with the Freedom to Move in a personal, sustainable and safe way. This purpose is reflected in a number of business ambitions: for example, by the middle of this decade it aims for half of its global sales to be fully electric cars, to sell half of its global volume online and to establish five million direct consumer relationships. Volvo Cars is also committed to an ongoing reduction of its carbon footprint, with the ambition to be a climate-neutral company by 2040.